How to remove ads in Yandex Browser
Yandex Browser continues to gain popularity, but one of the significant disadvantages of this web browser is the lack of any built-in means to block ads. In fact, this situation is observed in most browsers and it is explained by the fact that these companies earn solidly on advertising and affiliate sites. Recall that before you start any manipulations, make sure that you have the latest version of the browser installed, or simply download Yandex Browser and install it over your version on the system.
Special extensions are used for blocking, which will get rid of annoying banners and pop-ups. There are two such options:
Adguard
Adguard has two versions. The first is a browser extension that is free, the second is a Windows program that you have to pay for.
Adguard browser extension
Download Adguard for Yandex Browser and then confirm its installation in your browser. This free extension is able to block almost all ads. The only drawback is that certain links are still left in the Yandex search engine.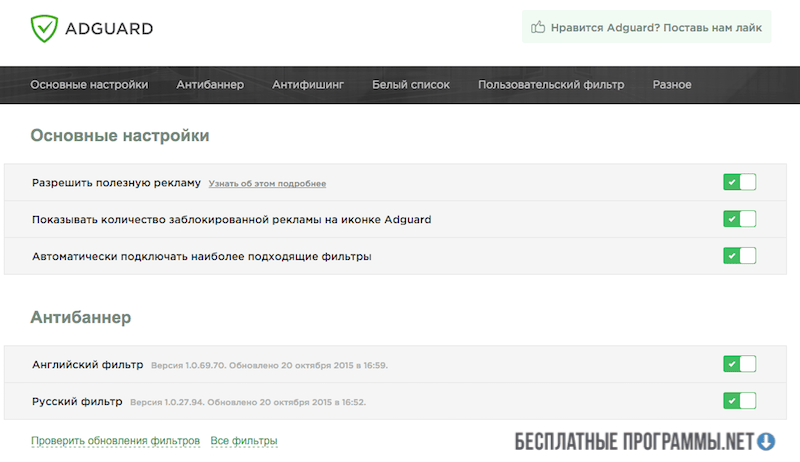 Adguard program
Based on the fact that the program is paid, it is not difficult to guess that it will effectively remove all advertising that is so annoying. At the moment, the cost of subscription for a year in advance is equal to about 200 rubles, and there is no free version yet.
Adguard works in the background. Internet traffic is filtered to see if it contains advertising elements.
Parental control is an additional feature that can be connected with this program. This will protect the browser from sites with a malicious nature.
Features of Adguard for Yandex.Browser:
During the installation of the program, you will be prompted to install Yandex Elements in one of the windows. Carefully study what they are and decide if you need them. Their presence or absence can be controlled with the help of checkboxes.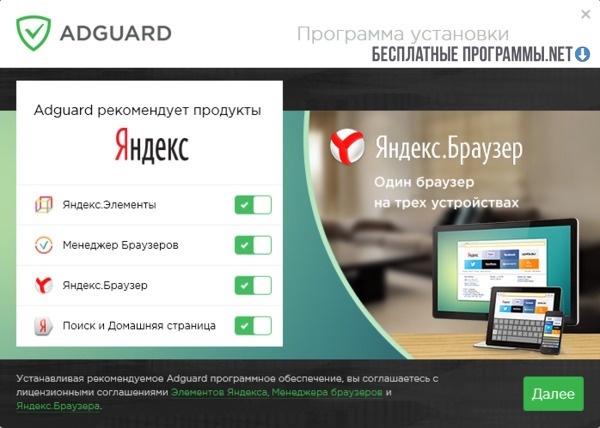 When the "Program Filtering Settings" stage starts, select the Counter and Internet Analytics Filter item. It is also recommended to uncheck the box next to the item "Do not block useful ads to completely clean the browser". With the last action, you can completely remove even those ads that are placed with the permission of search engines Yandex or Google, as well as many other sites that are not added to the utility's blacklist.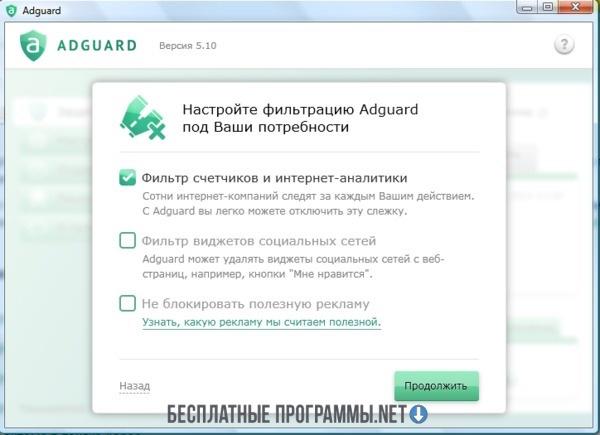 AdBlock extension
AdBlock is a well-known system that is offered to everyone in the form of an extension. In the same Chrome Web Store, it is possible to find free AdBlock extensions, as well as AdBlock Plus.
Installation is confirmed with the Add button, as in the image below.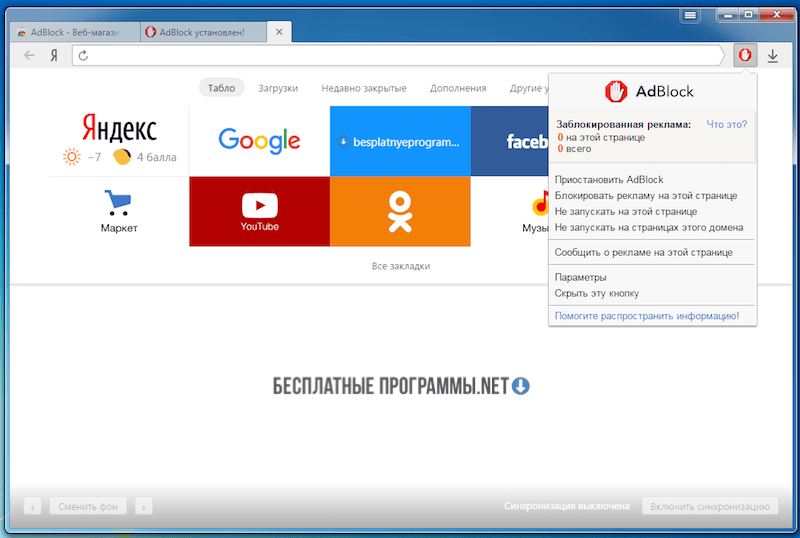 The ads are blocked quite effectively, but at the same time not as much as the previous program does. But it has very wide customization options - what to block, what not to block, and on which sites to perform the specified actions.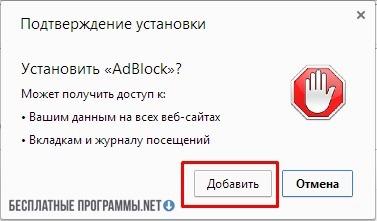 There are rumors that the developers of the extension have certain agreements with some companies, so perhaps, although not intrusive, but advertising will appear. Especially it may appear in search engines.
However, such extensions - although popular, but not the only option to get rid of advertising in Yandex Browser. Today there is a dangerous kind of advertising, which is not just annoying, it "knows" how to infect your computer. It is much more difficult to fight such ads. Below is an algorithm to combat this advertising:
Installation of antivirus. A really reliable antivirus such as 360 Total Security or Kaspersky Virus Removal Tool should be installed. With its help, run a full system scan.
Install scanners. Antiviruses can't always find adware programs.
Therefore, to be completely sure, install one of these utilities:
All of them are free of charge. Among paid effective tools, the most popular is SpyHunter. Run the scanner of this program. After scanning, remove the found adware objects.
What you need to do:
Uninstalling the browser. After the manipulations carried out, it is recommended to completely delete the browser. A special utility Revo Unistaller will help you remove Yandex.Browser for sure. It is necessary to remove absolutely all extensions and settings. Look in the registry. If there are unnecessary entries left there, then also eliminate them.
Clean hosts file. In the C:Windows/System32/drivers/etc folder, find the hosts file. Open it with notepad. Make sure there is nothing written after the word localhost. If there is, delete it.
Disabling proxy. Go to Network and Internet through Control Panel, select Explorer Properties. Open the Connections tab. If your Internet connection is through a local network, click Network Setup, if it's a remote connection, click Settings. Make sure that all Proxy options are disabled.
Check the DNS. To do this, select Network Connection. In the main connection, click Properties. Next - the Network tab, then - TCP/IPv4, then - Properties. Check that the DNS is as it should be given to you by your ISP. In most cases DNS is obtained automatically. If you notice other DNS, change them to the default ones.
Browser installation. All that remains is to download the official version of Yandex.Browser and install it again.